Yosami Radio Transmitting Station Memorial Museum
Displaying the various static transmitting equipment of the Yosami Radio Transmitting Station
The Yosami Radio Transmitting Station, build for wireless communications toward Europe, and also used for communicating with submarines in war times, was equipped a pair of the VLF transmitting equipment with the High-frequency Generators, one in use and the other backup. When the Station buildings were demolished in 2006, it was decided that a set of the transmitting equipment to be preserved in a Memorial Museum newly built next to the site of the original station. The Memorial Museum built in the following year takes the appearance of the original transmitting building of Yosami, and take in the major equipment of Yosami up to some 80%, such as the High-frequency Generator, loading coils, and the control panel.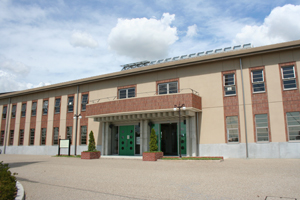 Only Two Pieces of Equipment in the World: Comparison with Grimeton Radio Station in Sweden
The existing original VLF transmitting facilities in the world built in 1920s are only two: Yosami and Grimeton Radio Station at Grimeton close to Varberg, Sweden. Grimeton VLF Transmitter employs the thin Alexanderson Generator of high revolution and less power, with six 127-m steel antenna towers, for communications toward the U.S., while Yosami employs the thick Induction-type Generator by high power, with eight 250-m steel antenna towers, as far as toward Europe. Grimeton Radio Station is active facilities capable of transmitting Morse messages on special occasions, and accredited as World Cultural Heritage by UNESCO in 2004.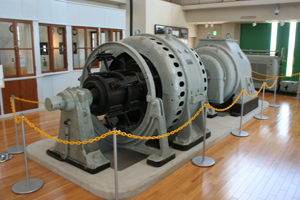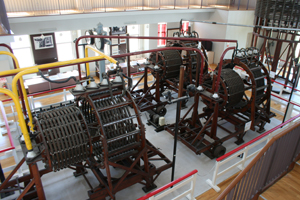 Supported by Goodwill Guide Group for the Yosami Radio Transmitting Station Memorial Museum
The Yosami Radio Transmitting Station with its eight 250-m. high steel towers well fit the scenery of Kariya, and locally referred to as the steel towers of Yosami, which was observed for the windows of the Tokaido Shinkansen trains by thousands of passengers. Local people missed the landmark of the towers when they were demolished, and the conservation movements for the station with industrial heritage experts arose, thus making the Yosami Radio Transmitting Station Memorial Museum built in 2007. For that reason, the Goodwill Guide Group for the museum was organized, and who study the history of the station and worked at the station explain the visitors the functions, achievements, and structures of the transmitting equipment, on weekends and national holidays, during core hours.
History of the Yosami Radio Transmitting Station